Project Surfliner Kick-off meeting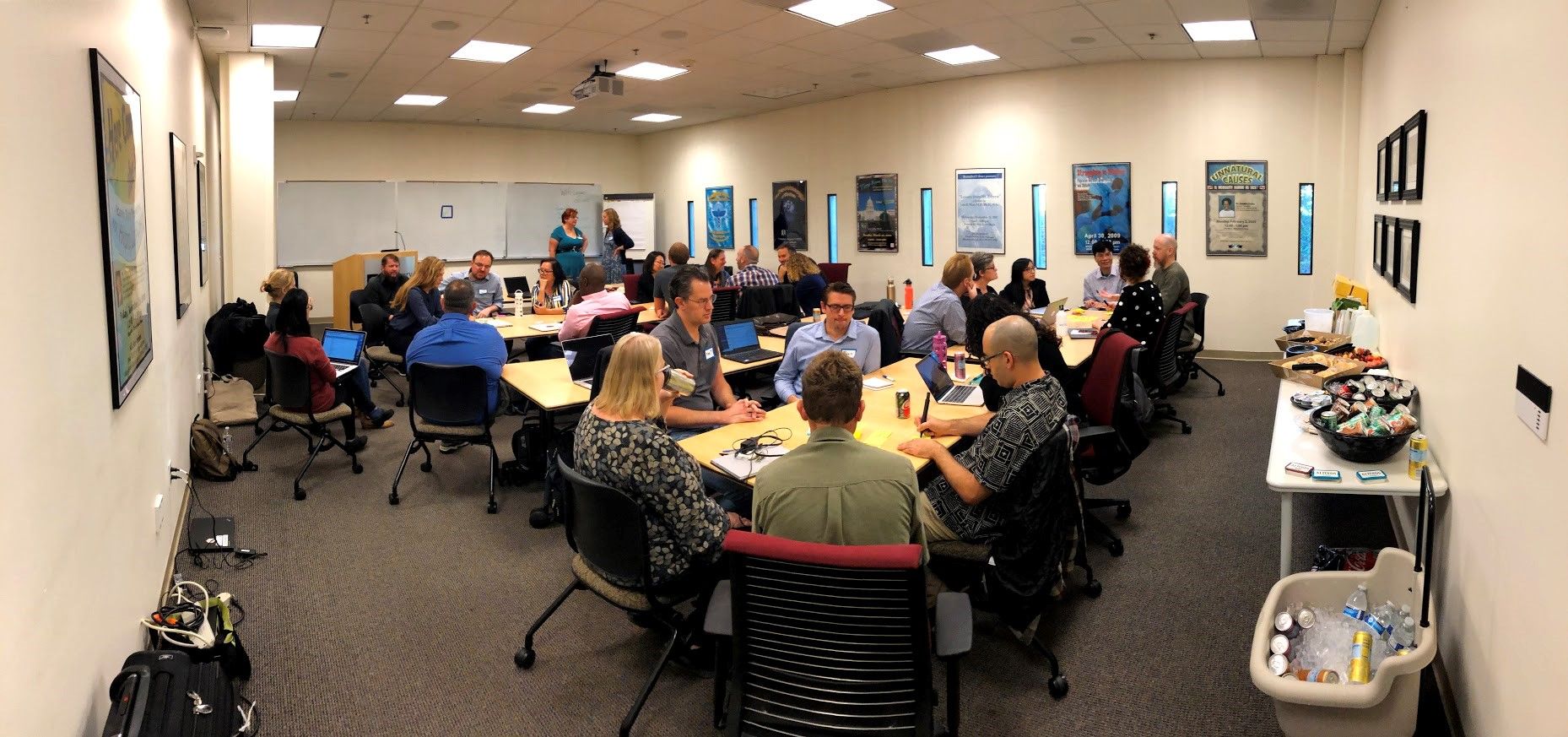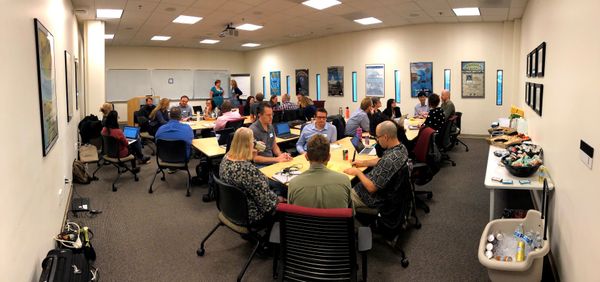 Overall the meeting was a success.  We are still compiling our notes, and it will take some time to document our Spider Web exercise (so many post-it notes).
By the Numbers:
• We had 29 attendees
• We had 22 UCSD Library attendees
• We had 6 colleagues from UCSB join us
• We had 1 colleague from UCLA join us
Rob Kaufman of Notch8 consulting was contracted to attend the session and help facilitate the Dev/Ops breakout. Rob will be meeting with us after Thanksgiving to debrief and help build out the initial roadmap as part of this engagement. It was fantastic to have the level of participation that we did.
Highlights and an outline of our next steps.
We spent time in the morning digging into what Project Surfliner really is. The consensus was that it is more than a collection of code, or even shared objectives. The project is the collaboration effort. It is building and leveraging the strengths and experiences of the three different campuses to focus on shared concepts and products.

Scope was brought up frequently in our discussions within the team – does it include Research Data systems? What about preservation? Our current direction will avoid bundling these systems into a single, monolithic product to avoid making maintenance difficult and slowing down an iterative development process.

Roles and responsibilities we covered in detail for the project as well as the strategic value and mission. We still have work to do on identifying team members that can fill these roles and addressing any gaps noted.

The product scope is being developed in a greenfield manner. The only declarative statement made by the team is that we will not be using Fedora.
Lunch and the afternoon session was used for group break out sessions.
Break Out Sessions
• Development, Operations, and Architecture
Facilitator(s): Rob Kaufman of Notch8 and Jessica Hilt UCSD
• Metadata
Facilitator: Chrissy Rissmeyer UCSB
• Geographical Information Systems
Facilitator: Tom Brittnacher UCSB
• Research Data
Facilitator: Tim Marconi UCSD
We are working on consolidating the notes for these breakouts with more details, but hearing what came out of them during the debrief was really exciting. There are a lot of areas where we all align and building out these products together makes a lot of sense.
Next Steps:

Joshua Gomez is going to check with UCLA, and they may be hosting our next focus group on the data model in December or January. Otherwise, UCSB will be the host.
• We will create a new #surfliner channel in UC Tech Slack just in case we widen the collaboration effort to UC-wide in the future; it would be good to be in a shared space
• We will share out the Surfliner Google Team Drive
• We will meet with Rob Kaufman to turn the breakout discussion into actionable items for sprints and begin building out a roadmap.
• Debrief at the Digital Products and Digital Steering meetings
I am sure there are more action items to be added, and we look forward to compiling our incoming feedback.
Thank you so much for your support in all this. If there is anything I can clarify or if you have any questions, please don't hesitate to ask.